Learn Korean in Orange County
The Orange County Lingual Institute is the premier Korean language school in Orange County, offering Costa Mesa Korean classes for all levels of Orange County Korean students. The Korean courses are taught at our new facility next to the South Coast Plaza and the Segerstrom Center for the Arts at a cost of $295 per eight-week term. Formerly the Orange County branch of the Beverly Hills Lingual Institute, we take pride in offering Orange County's premier Korean instruction using highly educated native-speaking Korean teachers and university texts. Korean language tutors are also available for private instruction and corporate programs.
When you want to learn Korean in Orange County, the Orange County Lingual Institute at South Coast Plaza is your best choice.
Current Schedule of Korean Classes
We offer as comprehensive a schedule of Orange County Korean classes as possible. The levels of classes scheduled reflect our current students' needs and the anticipated requirements of new students. We may also offer a semi-private Korean class or private Korean lessons for any level of Korean. All regularly scheduled classes meet once a week for 80 minutes during an eight-week term. Below are the currently scheduled Korean language classes.
Fall II Term (10/23/23 - 12/14/23)
New Year Term (1/8/24 - 2/29/24)
Beg I
Th
6:00p In-Person
Beg I
12:00a In-Person
Int II
M
6:00p In-Person
Beg II
Th
6:00p In-Person
Int IX
Th
7:35p Online
Int II+
M
6:00p In-Person
If your level and preferred time is not shown, please call; we often add beginning classes after the schedule is published in order to accommodate demand.
Why you should enroll in our Korean Classes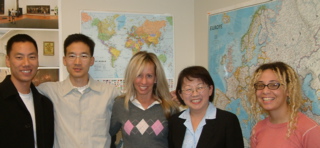 The Orange County Lingual Institute would like to invite you to learn Korean at our award-winning school where we are proud to offer Korean and over 15 other languages. This language of Korea as well as the local and worldwide Korean community is taught at our school convenient to residents of Orange County. Our supportive environment is a rich atmosphere for learning Korean from the teachers, the class materials, and from each other. Our attractive location, on-site parking and extensive schedule all combine to facilitate your Korean courses and are proven effective and extremely popular with residents of the Orange County area including the communities of Costa Mesa, Anaheim, Santa Ana, Irvine, Huntington Beach, Garden Grove, Orange, Fullerton, Mission Viejo, Westminster, Newport Beach, Buena Park, Lake Forest, Tustin, Yorba Linda, San Clemente, Laguna Niguel, La Habra, Fountain Valley, Placentia, Rancho Santa Margarita, Aliso Viejo, Cypress, Brea, Stanton, San Juan Capistrano, Dana Point, Laguna Hills, Seal Beach, Long Beach, and other nearby cities.
If you are not based in the Orange County area, we are proud to recommend the following language schools that teach Korean and many other languages with a comprehensive well-rounded and high-quality approach to teaching in a small classroom environment:
Beverly Hills, CA: Beverly Hills Lingual Institute
Monterey, CA: Monterey Institute
Korean Links:
Korean Consulate General in Los Angeles
Korean National Tourism Organization
In summary, we have the best value, the best teachers, the best location and offer the best overall experience for learning Korean in Orange County. Our students see the value and have this to say (click for additional reviews):
Alisa A.
July 3, 2023
Excellent classes, small class sizes, great professor and great administration.
Phia S.
January 12, 2023
After moving to a bigger city, I am adoring all of the amenities OC has to offer; OC Lingual institute being high on the list! I speak conversational...
Kolya I.
August 6, 2019
Absolutely cosmopolitan selection of languages and people on offer with excellent service and wonderful teachers. I would recommend this place to anyone seeking to learn another language
Amin P.
August 6, 2019
Clean and luxury environment, very great, kind and professional teachers...I got the accent reduction class it was so useful.
Henriette H R.
August 11, 2019
Great teachers. Amazing staff supports. Best location in oc. Convenient and safe parking. Classes are rich in contents and appropriate. The private classes are reasonably priced and very very practical. Highly recommended.
Monica D.
June 20, 2019
I have been going to OCLI for nearly a year, and I have enjoyed the experience of learning new languages with awesome, effective, and welcoming instructors and staff. Learning languages is important to me and I am so grateful this incredible resource is available to Orange County.
Judy T.
April 4, 2019
The teachers are excellent and the staff is efficient and friendly. The school is very well run and organized. My husband and I take classes there are we both impressed with the quality of instruction and the administration staff. The parking is convenient and the school validates the parking for the time in class. We would recommend this school for language students.
Dianne P.
August 3, 2018
Wonderful place to learn a new language. They offer many language classes. Native speaking teachers with great experience of teaching. The staff are very helpful and friendly. Strongly recommend !!!